Yesterday  I was working on our monthly newsletter (which doesn't really go out monthly, but rather when I am guided to write one, which isn't really often enough and I'm really setting the intention to get better about it…). [p.s. I'm forgiving myself for the run on sentence & taking a breath].
I was really resisting sitting down to write and it seemed to take forever. So I posted this message to Facebook.

Then I went back to writing and editing.
Two hours later I posted this update to Facebook: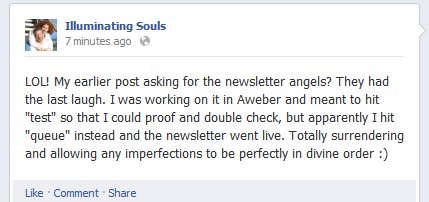 Yep, the angels hit the send button before I proofed it. And you know what? I don't think anyone in the world but me cares.  I have this habit of falling into the perfection trap. It must be a carry-over from my days in the corporate world where accuracy was essential. These days when it comes to writing my newsletters, I double check things multiple times. I make sure the links are all working, that the formatting looks good. And don't even get me started on what happens if I get the urge to reformat everything. Just the other day I had to stop myself from changing all the fonts on my site because all of a sudden I wanted a new look. It's totally fine to redesign the site – but it certainly was not my priority for the day.
That's what happens, I get sucked down the procrastination & perfection hole.
My husband will sometimes stand over my shoulder watching me tweak the font on a banner ad and say, "You've hit the law of diminishing returns." He's totally right. At some point it's good to go as it is.
So to emphasize the point, my newsletter went out without my proofing it. And the world is still spinning… and I haven't had dozen of people unsubscribing from our list… and no one seems the least bit concerned about any possible oversights.
Thank you angels. You know me, I would have spent way too much time fiddling with the details. But you know when it's time to let go.