I'm home now after an inspiring weekend at The World Domination Summit.
I'm feeling very quiet and contemplative as I integrate my experiences into my life. It feels like I don't want to use my words too soon because they need to steep and grow wise.
My sense is this is an experience that is somehow shifting my energetic DNA. The world looks bigger and brighter now because I spent the weekend with 1,000 people who are optimistic and committed to helping and serving the world.
The mantra of World Domination Summit is:
Living a remarkable life in a conventional world
The opening keynote speaker was Brene Brown who talked about vulnerability and shame.
She shared with us the wisdom to go out into the world and be super-uncool. I loved her and whenever my inner critic began making comparisons about how I measured up compared to other people's accomplishments, I remembered what she taught us about enoughness and being ourselves.
(Inner Critic: "Why haven't you brought clean water to the people of Africa? Why haven't you traveled to 40+ countries?" — Gosh, let's all send out inner critics a wave of compassion and love!)
If you haven't ever heard Brene speak, you can hear her 2010 TED Talk here:
One of my favorite quotes from her talk:
Who you are will always trump who you think people want you to be.
She completed her talk by inviting all of us to be super uncool with her and sing "Don't Stop Believing" by Journey — the Glee version. There we were, 1,000 strong, singing, dancing and laughing together. It was sheer exuberance and an experience I would gladly have again and again and again.
The next speaker was Scott Harrison of Charity Water. His story and the story of Charity Water is deeply touching. His organization brings clean drinking water to people around the world.
There's so much I want to write about Scott and his story. After spending 10 years as a club promoter in New York he realized he wanted to do more with his life and was guided to tith a year of his life to God. During his year of service, he traveled through Africa and saw the hardship people endure just to get water. This inspired him to start Charity Water where he used his skills and connections honed as a club promoter to bring in donations. (Isn't it a great reminder that every morsel of our life can be repurposed for a higher good?) He's made it possible for each one of us to help bring water to villages all over the world so that people will no longer have to walk for four hours just to get water from a murky pond. If you're like me, you turned on the faucet and brushed your teeth with clean water this morning. Charity Water makes it easy for us to help others do the same. Here's an interview with Scott where he shares how Charity Water got started.
I officially have a huge humanitarian crush on him.
(It's almost an hour long, but totally worth watching)
…and this was just the first morning of WDS. There's so much more to share, but I'll save that for another day. Let me fast forward to the end of the conference.
It was time to wrap up the conference and organizer, author Chris Guillebeau took the stage. He began by sharing about last year's Summit, the first of its kind. It drew 500 people from around the globe and was a rousing success. However they lost money on it to the tune of $30,000. But Chris and his team weren't disheartened. They were inspired and considered it an investment. They began planning for this year's Summit. They increased the capacity to 1,000 people, raised the ticket prices and made other changes. This year, he said, they made a small profit. In addition, he shared, an anonymous donor came forward and offered to contribute to WDS. When all was said and done, Chris explained that they had enough of a profit to give each one of us $100. And that's what they did. As we filed out of the theater, each of us received an envelope containing a one-hundred dollar bill and a note that says:
The $100 Investment: Thanks for making #WDS2012 a fantastic experience. We'd love to see how you can put these funds to good use. Start a project, surprise someone, or do something entirely different — it's up to you.
I wish you could have been with me in the theater when he shared this missive. What a beautiful act of generosity and faith. And the tears flowed for the umpteenth time during the weekend.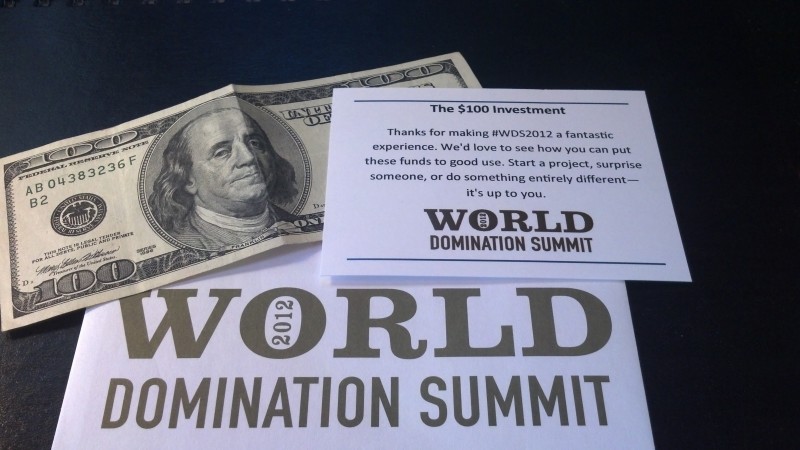 You know, it's easy to grow cynical and apathetic in the world today. Even with my lightwork, some days I grow weary and I wonder if the world is changing for the better. After this weekend, I know it is. I hope one day all of you get to have the experience of spending the weekend with other remarkable people committed to making a positive impact in the world. As Chris G. said, "Inspiration goes only so far without action." This weekend I met a lot of amazing people who are taking inspired action in the world. Have faith, friends, the cavalry has arrived by way of each of us.
There's so much more I want to share with you, but the words are still being born. But I want to share with you some blog posts from other WDS attendees. Here you'll meet some beautiful souls and hear about their experiences of this weekend.
The People & Magic of World Domination Summit
The Bold Life – World Domination Summit
How do you live a remarkable life in a conventional world?
From ER to WDS in 242 Days – The True Story of a Lonely Girl and How she found her Tribe
How to Take Action on Inspiration