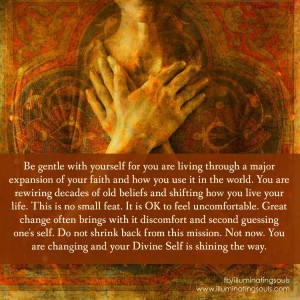 Goodness, the tumultuous energies continue to rock and roll and sometimes I wonder if things will calm down anytime soon. This past weekend I found myself needing a lot of quiet time away from people. My husband and I had to run errands and I found myself getting short-tempered with just about everyone. One of my running jokes is that I know that I'm not yet ascended because of the way I curse at people in traffic. The day I'm more zen on the road is the day that I know I've experienced a profound shift in my ascension.
There's something on the horizon… I can feel it… it's shimmering like a promise of a brighter day. All we have to do is make it through this passage. We are in the midst of a great awakening. All the muck that is being stirred up is in service to clearing away that which is no longer needed.
I'm reminded of all the times I've  moved homes. I should tell  you, I hate moving. I hate the upheaval and disorganization that comes along with packing and unpacking a lifetime of treasures.  But as I cull through drawers and closets, I come across bushels of items I don't really need or want anymore. They've gotten shoved away and forgotten. They've been taking up space and outlived their usefulness in my life. The energies that are being triggered in our lives are very similar in form. Many of them have been dormant or quietly lurking beneath the surface. They have recently become activated so we may become more self-aware. This allows us to shine love and compassion upon old wounds and stories so they may be healed.
So if your old patterns and wounds are up for you again… please don't feel like you're slipping back. It's actually the opposite. They are being brought forward to this time and space so that you can integrate and step more fully into your light.
Here is a sweet message from the angels for you today.
Angel Message: God Has Faith in You
Be gentle with yourself for you are living through a major expansion of your faith and how you use it in the world. You are rewiring decades of old beliefs and shifting how you live your life. This is no small feat. It is OK to feel uncomfortable. Great change often brings with it discomfort and second guessing one's self. Do not shrink back from this mission. Not now. You are changing and your Divine Self is shining the way.

Set your intention to deepen in your connection with God. Let God lead you. Trust in all that is God and how much God loves you. Perhaps this isn't so much about your faith in God, but rather remembering how much faith God has in you. You are a divine wise being and you have been guided to this very moment.

Do not dim your dreams to match your fears. Stand your ground and yet, bend with the wind. Remember – you are powerful; you are deeply loved; you are a sweet bright light.

Shower your fear with love, but don't give into its demands. Ask the angels to shield you from the chaos energy swirling about the earth right now.

Stay your course. As you do, you strengthen your intentions and divine connection.

One day soon, it will all click into place and suddenly things will feel more effortless. So continue ascending, dear one. We are with you.